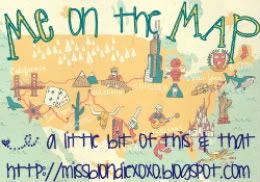 I'm linking up with my bloggy buddy Michelle @
a little bit of this and that
to tell you ladies all about where I live.
Welcome to
"Me on the Map: The Big D"
aka Dallas, Texas ... yee haw! I bet if you are not from the South and/or have never been here, you think we ride horses, wear cowboy hats and have thick Southern accents. Negative.
If you heard me talk, the only thing you would pick up on is that I say "y'all". Other than that, I probably talk just like you! If you go to smaller cities in Texas, you will definitely notice accents, but most people from large cities do not have Southern accents at all.
Dallas is the
9th largest city
in all of the U.S. and 3rd largest in Texas. Our beautiful skyline:
Along with being the winning title holder to the
most shopping centers per capita
than any other city in the United States,
Dallas is also the winner of the title "
City With The Most Restaurants per Capita
". So yes, we can shop and eat with the best of 'em. Hence, why my jeans don't fit. Guess I better head over to Galleria Mall:
Dallas is known for its barbecue and Tex-Mex cuisine. We also have several nationally ranked steakhouses including Bob's Steak & Chop House, currently ranked #1 according to the USDA Prime Steakhouses chart. Holla. I still have yet to go here and have always wanted to. Still waiting for that hot date.
We are home to the
Dallas Stars, the Dallas Mavericks, the Texas Rangers and the Dallas Cowboys
. The Stars and the Mavs both play at the American Airlines Center (below). I lived across the street from here for 2 years, it was so convienent to walk to games.
The Dallas Cowboys and the Texas Rangers play in Arlington, Texas, which is about a 30 minute drive Southwest of Dallas. 
Cowboys Stadium
is the
largest domed stadium in the world
with the
largest HD video screen
measuring 160 feet wide and 72 feet tall. It cost $1.15 billion dollars to build Cowboys Stadium. Unreal. 
The Ballpark in Arlington
(original name, huh?), is where the Texas Ranger's play and where you can find me THIS FRIDAY for Opening Day!
I currently live very close to the suburb of Plano, which is where I grew up.
Uptown Dallas
is the area I lived for 2 years before moving to my current apartment. Uptown is known for it's dense retail, restaurants and nightlife all within walking distance from where you live. A pic of some retail in Uptown:
And
Plano
, the Dallas Suburb I call "home" is where I grew up. Plano is the
9th largest city in Texas
and was ranked as
the safest place to live
in America by Forbes in 2010. The
Shops at Legacy
in Plano:
So we've covered shopping, food and sports. All the important things in life.
Hopefully I've dispelled the myth that we're a bunch of hicks and stuck in the olden age. We're actually quite a trendy city with lots to do. Hopefully you'll agree. And that's me on the map!