You may have noticed I was MIA last Friday, which means Friday Faves was a no-go. I was sick with a cold and it's still lingering, but I think I'm going to pull through.
Soooo .... exciting news today! Several of you commented that you wanted Friday Faves to be link-up, so your wish is my command. I created a button, which you can grab below and link-up with me today for Friday Faves. Let's spread the faves!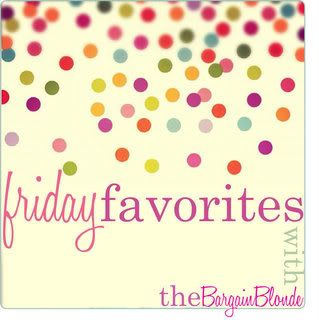 So flattered! On Monday
I was featured
on a local blog called
The Dallas Socials
!
If you live in the Dallas/Ft. Worth area, you should follow this blog. Betsy, the beauty and brains behind the blog,

posts daily about whats going on around town – from

events

, to

freebies

, to shopping, to fun stuff in the

burbs

. Check it out.
I can't make this stuff up and yes, this happened in real life in front of my very eyes. So last Friday night I made the mistake of running into Wal-Mart to grab a few things. "Wal-Mart" + "Friday Night" are two words that should not go together in the same sentence. This I know.
Anywho - I'm checking out and about to go on my merry way when a man with a brown paper bag on his head walks by me and heads for the McDonald's at the front of the store. Anyone who knows me IRL knows my phone is in my hands at all times, which comes in handy for moments like this. My intent was just to snap a pic of this dude walking with a bag on his head, but things quickly escalated.
Next thing I know, he is stumbling backwards and falls to the ground. I'm pretty sure I had one hand over my mouth and the other still snapping pics. I thought this was some freak under the influence of the sweet nectar and security would be over at any moment to escort him out. That didn't happen. Paper bag man just quickly popped back up and just walked right of out of Wal-Mart like what I just saw didn't even happen. I felt like I was in the Twilight zone. Don't go to Wal-mart on a Friday night is the moral of this story.
If you saw this beauty in person you would die. I had to have it and now it's on it's way to me! Yipee.
Found
these instructions
on how to make bacon in the oven at the blog
Mom & Wife
and have been cooking bacon like this for the past month. Legit, the easiest and best way to make bacon IMHO. You just put the bacon on a foil covered pan, put the pan in cold oven, turn to 400 degrees and bake for 20 minutes. While the bacon is baking you get to make the rest of your breakfast! Life changing.
Excuse me, sir. Not liking my TV choices?
Poor guy got neutered and had to wear this cone when alone! ha.
Remember Alana, the Honey Boo BooChild break-out star from last season of Toddlers & Tiaras? I posted about her here. Yesterday it was announced that home girl is getting her own spin-off show on TLC! I swear, this made my week. If trashy reality TV is wrong, I don't want to be right.
K, now it's your turn! Link-up bishes! What are you favorites from the week?